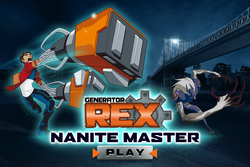 Nanite Master is a game from Cartoon Network's website. The player controls Rex to stop Biowulf during a Providence rescue mission.
Characters
Controls
Use SPACE to attack.
Use UP, DOWN, LEFT, and RIGHT to move Rex.
Instructions
Touch an icon to build that weapon from Rex's body
Pick up "Bonus Points" and "Health Points"

Bonus Points - 1000 pts.
Health Points - Restores HP
Weapons
Smack Hands
Slam Cannon
Boogie Pack
Badges
Beat Level 30.
Beat Level 10.
Get 50 Health Powerups.
Beat a level without getting a hit.
Use all of Rex's weapons.
Gameplay
Trivia
This is the second time Biowulf appears in a Cartoon Network online game. The first time is in Abysus Arena.