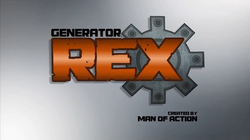 This is a list of episodes for the American animated series Generator Rex. The show first aired on April 25, 2010 and has ended airing. A total of sixty episodes were ordered.[1] Twenty-one episodes have aired for the first season and nineteen have aired for the second. The show ended in its third season.[1]
Season one
Image
Title
Original air date
Episode #
Overall episode #
Directed by
Written by

"The Day That Everything Changed"
April 23, 2010
1
1
Sam Montes
Man of Action
Rex sneaks out to blow off steam with Noah, but the pair soon encounter trouble.

"String Theory"
April 30, 2010
2
2
Rick Morales
Man of Action
In order to take down a new EVO, Rex and White Knight go to extreme measures.

"Beyond the Sea"
May 7, 2010
3
3
Chris Graham
Man of Action
Rex, Noah and Bobo decide to have some fun by sneaking off to Cabo Luna for Spring Break. While at the beach, Rex meets and falls head-over-heels for an EVO girl named Circe, who is on an initiation mission in order to join Van Kleiss' group, the Pack.

"Lockdown"
May 14, 2010
4
4
Sam Montes
Scott Sonneborn
The entire city is put on lockdown following the escape of a dangerous EVO from the zoo. However, Rex and Noah end up being trapped along with it.

"The Architect"
May 21, 2010
5
5
Rick Morales
Amy Wolfram
Someone known simply as "The Architect" is attempting to build a tower that can communicate with nanites and order them what to do. Although Rex isn't sure that the true purpose of the tower is what it seems to be.

"Frostbite"
May 28, 2010
6
6
Chris Graham
Marty Isenberg
Rex faces off against the Pack at a Providence base in the Arctic, while facing a possible nanite overload.

"Leader of the Pack"
June 7, 2010
7
7
Sam Montes
Alexx Van Dyne
Rex faces off against the Pack, but it seems that Circe is covering for Van Kleiss while her boss is planning something sinister.

"Breach"
June 11, 2010
8
8
Chris Graham
Adam Beechen
Rex gets trapped in one of Breach's pocket dimensions, where he wakes up to wild EVOs in a strange boarding school.

"Dark Passage"
June 18, 2010
9
9
Sam Montes
Marsha Griffin
Rex may finally be able to get answers about his past when one of the original scientists from the Nanite Project resurfaces in the Amazon.

"The Forgotten"
September 17, 2010
10
10
Rick Morales
Paul Giacoppo
Rex and Six try to retrieve an info-rich disk that's stashed inside an EVO-plagued city known as the Bug Jar.

"Operation: Wingman"
September 24, 2010
11
11
Chris Graham
Eugene Son
Noah drags Rex on a double date leading to a Junior Prom. The problem: the cute girl Noah hooked him up with is a total klutz, who has a reputation of sending her old dates to the hospital. To make matters worse, Rex has to keep an eye out for a dangerous EVO: a giant rabbit with a grudge.

"Rabble"
October 1, 2010
12
12
Sam Montes
Rob Hoegee
When investigating crimes in Hong Kong, Rex bumps into old friends of his from the past. Except they're the ones committing the crimes.

"The Hunter"
October 8, 2010
13
13
Rick Morales
Michael Ryan
Rex is targeted by an EVO hunter named Hunter Cain, who leads the public to believe that Providence is ineffective and dangerous.

"Gravity"
October 15, 2010
14
14
Rick Morales
Andrew Robinson
Zag RS returns in its latest attempt to destroy all nanites. It invades a Providence satellite containing Dr. Holiday and others on board. When they shut it down to prevent Zag RS from escaping, the satellite begins falling towards Earth. It's up to Rex to prevent the satellite from burning up in the atmosphere and to stop Zag RS.

"What Lies Beneath"
October 22, 2010
15
15
Chris Graham
Marsha Griffin
Following Van Kleiss' demise, Abysus has begun to fall apart, so Circe calls on Rex for help. However, what she and the Pack really want is for Rex to revive Van Kleiss, so that Abysus can return to normal, but Rex has no intention of bringing him back.

"The Swarm"
October 29, 2010
16
16
Sam Montes
Paul Giacoppo
EVO locus that eat nothing but metal are destroying every village they come across, as they make their way towards China. It's up to Rex to stop them, but since all of his nanite weapons are made of metal, he'll have to come up with a different solution.

"Basic"
November 5, 2010
17
17
Rick Morales
Scott Sonneborn
Rex and Noah make a bet on who can last the longest at Basic, a training ground for new Providence cadets. As they go through all the rigorous training, they begin to realize that being a Providence soldier isn't as easy as it seems.

"Plague"
November 12, 2010
18
18
Chris Graham
Tad Stones
A mysterious virus is causing everyone on the globe to fall into a deep sleep. And so Rex has been dispatched to find out what's causing the virus to spread. Later on, he teams up with White Knight in order to find the so-called Patient Zero.

"Promises, Promises"
November 19, 2010
19
19
Sam Montes
Man of Action
While celebrating Rex's anniversary at Providence, the history of how Rex joined Providence is revealed.

"Badlands"
December 3, 2010
20
20
Rick Morales
Eugene Son
While transporting unstable nanites, Rex, Noah and Bobo get separated from the Providence convoy. Meanwhile, Agent Six and the others in the convoy become the targets of a gang of anarchists seeking to steal the unstable nanites.

"Payback"
December 10, 2010
21
21
Rick Morales
Rob Hoegee
Van Kleiss decides to go after Rex in order to reclaim the nanites that were stolen from him. In doing so, he gains the ability to turn people into EVOs and proceeds with his plan to destroy Providence once and for all.
Season two
Image
Title
Original air date
Episode #
Overall episode #
Directed by
Written by

"Rampage"
February 4, 2011
1
22
Rick Morales
Rob Hoegee
Rex and the gang are dispatched to deal with a commotion going on at the port. After Van Kleiss turns Noah into an EVO, Rex must cure him before time runs out and before Van Kleiss gets to him first.

"Waste Land"
February 11, 2011
2
23
Chris Graham
Tad Stones
On a mission to recover a set of nuclear reactor cores from a research ship, Rex and Six encounter an advanced civilization of marine EVOs.

"Lost Weekend"
February 18, 2011
3
24
Seung-Hyun Oh
Scott Sonneborn
Providence Agent Kenwyn Jones and Rex are assigned an undercover mission to investigate an underground EVO party. However, their unique way of getting things done soon causes problems and must learn to work together.

"Alliance"
March 4, 2011
4
25
Chris Graham
Paul Giacoppo
Rex and Bobo are sent to fix a failing shield around the Bug Jar. Unfortunately, Van Kleiss and the Pack, along with Circe, arrive in order to forge an alliance with the inhabitants of the Bug Jar and their vengeful leader, NoFace.

"Robo Bobo"
March 11, 2011
5
26
Seung-Hyun Oh
Man of Action
Rex discovers that Bobo has replaced himself with a robot duplicate.

"Divide By Six"
March 18, 2011
6
27
Rick Morales
David Slack
Six asks for Rex's help to cure his old mentor, who's become an EVO.

"Mixed Signals"
March 25, 2011
7
28
Chris Graha
Alexx Van Dyne
Rex is kidnapped from Providence by a man who claims to be his older brother.

"Outpost"
April 1, 2011
8
29
Seung-Hyun Oh
James Felder
Rex is sent to South America to stop "The Green Fist", a group who have been stealing EVOs from Providence.

"Haunted"
April 8, 2011
9
30
Rick Morales
Tad Stones
A ghostly cat-like EVO interrupts Rex and Noah's double-date with Claire and Annie at a haunted hotel.

"Moonlighting"
April 15, 2011
10
31
Chris Graham
Scott Sonneborn
Rombauer and Lansky, two Providence training washouts, form their own amateur EVO hunting business. Rex, dissatisfied with his work at Providence, decides to do some moonlighting with them.

"Without a Paddle"
April 22, 2011
11
32
Seung-Hyun Oh
Ken Pontac
Noah convinces Rex to attend his school, so he can participate in an upcoming ping-pong tournament.

"Written in Sand"
April 29, 2011
12
33
Chris Graham
Man of Action
While investigating a nanite-free sandstorm, both Rex and Van Kleiss become trapped underground, with their nanites slowly being destroyed. The two enemies must work together in order to survive.

"Night Falls"
September 16, 2011
13
34
Rick Morales
Amy Wolfram
Caesar takes Rex to visit a family friend back in Mexico where they are met with cold suspicion and a dark secret.

"Hard Target"
September 23, 2011
14
35
Seung-Hyun Oh
Paul Giacoppo
While delivering Chinese food to Providence, Rex is attacked by Breach. She later tells Rex that Van Kleiss has a very important mission for her involving an old friend of Rex's. After she suddenly leaves through a portal to Hong Kong, Rex follows her, mistakenly thinking that Breach is after Circe. Rex eventually discovers that Breach is after his old boss: Quarry.

"A Family Holiday"
September 30, 2011
15
36
Rick Morales, John Fang
Man of Action
Doctor Holiday goes to disastrous lengths to get her younger sister, Beverly, cured by a mysterious man named Dr. Brandon Moses, who says that he has found a cure for incurable EVOs. However, there may be more to his "cure" than meets the eye.

"Exposed"
October 7, 2011
16
37
Chris Graham
Charlotte Fullerton
A news crew is given an all-access pass to Providence, and Rex goes a little too far in an effort to get more camera time.

"Grounded"
October 14, 2011
17
38
Seung-Hyun Oh
James Felder
While the rest of Providence is off-site for training exercises, Rex is grounded. Noah convinces him to have a party, but can only deliver four hoodlums for guests. When an EVO intruder is found inside the base, it's up to the six of them to stop it.

"Six Minus Six"
October 21, 2011
18
39
Chris Graham
Alexx Van Dyne
An effort to restore Rex's memories results in Six losing most of his. Now having reverted to his earlier, less-refined self, Rex has to help Six find his way back from heartless mercenary to the mentor he has come to know.

"Lions and Lambs"
November 4, 2011
19
40
Seung-Hyun Oh
Rob Hoegee
Van Kleiss has found a way to enhance Breach's powers so she can now open portals in time. To stop this dangerous threat, Rex must attempt to lure her over to the good side.
Season three
Image
Title
Original air date
Episode #
Overall episode #
Directed by
Written by

"Back in Black"
November 11, 2011
1
41
Seung-Hyun Oh
Paul Giacoppo
Rex visits the future, after being gone for six months in which the Black Knight is the head of Providence.

"Crash and Burn"
November 18, 2011
2
42
Chris Graham
Eugene Son
Rex finds a new hobby that raises causes for concern as he risks his life while competing in the dangerous world of underground motorcycle racing, where he discovers that the races aren't the only thing that could seriously jeopardize his future.

"Phantom of the Soap Opera"
December 9, 2011
3
43
Kenji Ono
Scott Sonneborn
Noah lands a job at the TV studio where Rex's favorite show is filmed.

"Riddle of the Sphinx"
December 16, 2011
4
44
Seugh-Hyun Oh
James Felder
The gang goes to Egypt, where strange EVO activity surfaces.

"Double Vision"
December 30, 2011
5
45
Chris Graham
Ken Pontac
Rex goes to great lengths to recover his goggles after he loses them in a fight.

"Guy vs. Guy"
January 6, 2012
6
46
Seung-Hyun Oh
Jake Black
Rex plans a prank on Noah and ropes Bobo into his scheming.

"Black and White"
January 13, 2012
7
47
Chris Graham
Man Of Action
Rex and the group infiltrate New Providence. To their dismay, they find out enough evidence to realize that Black Knight is trying to resume the Nanite Project.

"Deadzone"
January 20, 2012
8
48
Kenji Ono
Scott Sonneborn
Rex and Noah transport an EVO who has the ability to interfere with Rex's powers.

"Assault on Abysus"
January 27, 2012
9
49
Seung-Hyun Oh
James Felder
Rex and Circe race to Abysus in the hopes of beating the Black Knight and Providence there and stop them from obtaining a second Meta Nanite that is said to be hidden deep within the lower levels of Abysus.

"Heroes United"
November 25, 2011
10-11
50-51
Chris Graham & Kenji Ono
Man of Action
After arriving in Rex's world, Ben Tennyson (Ben 10) has no other choice than to team up with Providence's secret weapon - Rex Salazar - in order to defeat a new, very dangerous threat.

"Remote Control"
February 3, 2012
12
52
Ken Pontac & Seung-Hyun Oh
John Fang
Rex discovers that Quarry is using Providence's collars to turn his old friends, Tuck, Skwydd, and Cricket, against him again.

"A Brief History of Time"
February 10, 2012
13
53
Chris Graham
Paul Giacoppo
Follow Van Kleiss on his millenia-spanning journey back to the present, but something is after him!

"Mind Games"
January 1, 2013
14
54
Kenji Ono
Jonathan Callan
Circe joins Rex and the others at the Plant, but she's acting very strange.

"Hermanos"
March 2, 2013
15
55
John Fang
Scott Sonneborn
Rex learns that he's inherited a farm in South America, and brings Noah, Claire, and Annie along to check it out.

"Target: Consortium"
December 27, 2012
16
56
Chris Graham
Alexx Van Dyne
Jungle Cat returns and helps Rex and Six attempt to take out the Consortium.

"Enemies Mine"
February 9, 2013
17
57
Kenji Ono
Eugene Son
Hunter Cain, NoFace, Gatlocke, and Valve form an alliance to put an end to Rex.

"Rock My World"
December 26, 2012
18
58
Kenji Ono
Alexx Van Dyne
Rex becomes a security guard of a music band called the Trendbenders. He has to protect them from an obsessed fan who was angry at the change in the band.

"Endgame, Part 1"
January 2, 2013
19
59
John Fang
Rob Hoegee
The Consortium has obtained the Master Control nanites! Can Rex stop them from wreaking havoc?

"Endgame, Part 2"
January 3, 2013
20
60
Chris Graham
Rob Hoegee
Rex must risk losing his memory and resort to his last line of defense to defeat the Consortium. But will it be enough?
References