Featured article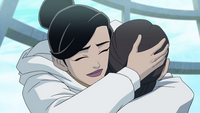 After witnessing a public presentation of an incurable EVO getting cured, Doctor Holiday goes to desperate lengths to have her younger sister, Beverly, treated. Renowned doctor and scientist, Brandon Moses, claims to have engineered a machine that can seemingly cure these EVOs. Before Holiday can proceed, she asks her superior for permission. However, White Knight voices his disapproval about getting another organization involved and states that Beverly will not be allowed back into Providence if everything falls through. Although the risks could result in Holiday losing her sister, it is a chance she is willing to take. Convinced that it all sounds too good to be true, Agent Six and Rex investigate and uncover some surprising details about Moses and his company, learning that he is not who he presents himself as.
Helping Out
To write a new article, just enter the article title in the box below.
Not sure where to start?
If you are new to wikis, you may want to read the Help pages.
Adding content
If you want to help but you're not sure where to start, try improving the various stub articles by expanding them.
Another helpful activity would be to check the list of wanted pages for frequently linked-to articles that don't exist yet.
Editorial help like spelling or grammar is always appreciated.
Community content is available under
CC-BY-SA
unless otherwise noted.