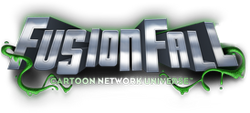 Cartoon Network Universe: Fusion Fall was an MMORPG (abbreviated for: Massive Multiplayer Online Role-Playing Game) developed by Grigon Entertainment and published by Cartoon Network. The game allowed the player to enter the Cartoon Network Universe and make an avatar to battle with Fuse, the main antagonist, and his army of Fusion Monsters and Fusions, evil copies of famous characters from several Cartoon Network series. The game was announced to the public and released on January 14, 2009 (though it was set for mid-2008). The game had hundreds of cartoon characters and elements in the game, including many characters from Generator Rex. It was redesigned in an anime style by Midori Foo.
The game was cancelled on August 29th, 2013, after 5 years online. The last 2 years of the game were marked by a lack of updates, events and patches, with the only major expansion of the game, The Academy Update (which had a significant presence of Generator Rex content), leaving many fans unsatisfied with significant mechanic and story changes. A group of fans, however, worked from 2017 to 2018 to bring the game back online, and from August 5th to September 27th, 2018, FusionFall Retro was released to the public. This version of the game does not include any Generator Rex content. A second game, FusionFall Legacy, which is being developed parallel to Retro, may include some aspects of Generator Rex in it.
The Story
Planet Fusion, ruled by the evil Fuse, has traveled throughout the galaxy for millennia, devastating and absorbing countless planets and civilizations, and its next target will be the planet Earth, specifically the Cartoon Network universe. Now the player must join forces with the heroes and villains of the Cartoon Network universe to save the planet and defeat Fuse.
Generator Rex characters
Fusions
Fusion Van Kleiss (never implemented)
Nanos
Rex (acquired with code or at Level 2)
Van Kleiss (as an Unstable Nano, never fully implemented)
Bobo Haha (never implemented)
NPCs (Non playable characters)
External Links
Community content is available under
CC-BY-SA
unless otherwise noted.