I need a background check on an Etude...?

This article is a stub and is in need of more information. You can help expand it.
"Basic" is the 17th episode of season one of Generator Rex and the 17th of the overall series. It debuted on November 5, 2010.
Overview
Rex and Noah make a bet on who can last the longest at Basic, a training ground for new Providence cadets. As they go through all the rigorous training, they begin to realize that being a Providence soldier isn't as easy as it seems.
Plot
Rex decides to go to a Providence boot camp after being insulted by Providence agents Wade and Beasly, who say that he wouldn't last a day at boot camp. Determined to prove them wrong, Rex enrolls in Providence's Basic Training program and decides to bring Noah along.
At the boot camp, things go from bad to worse. The drill instructor berates recruits at every moment, Rex and Noah are doing horrible, and many of the exercises actually have the potential to kill the recruits. In one incident, the cadets were trapped in a falling plane from which Rex saved them. Unfortunately for the cadets, they were expected to crash the vehicle safely instead of relying on Rex's superpowers. As a direct result of this, Kenwyn loses her first place position in the class. Rex tries to apologize, but Kenwyn angrily tells him off for treating her life's dream as a joke. Rex, Noah, the drill instructor, and Kenwyn oversee a final exam where students are locked in a cut off area of the camp called the Cage with captive EVOs. Among the captive EVOs is Weaver, whom Providence spent a small fortune and an army extracting from the crevasse which Rex had thrown him into and was transported to the boot camp.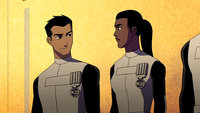 However, things go from worse to horrifying when a recruit and teammate of Rex's named Kenwyn, upset at Rex for causing her grades to falter, sabotages Rex's exam by releasing the imprisoned EVOs. One by one, Rex, the recruits, Noah, and the drill instructor take down the EVOs, and both the cadets develop a new found respect for Rex and Rex respect for them. Rex even goes so far as to cover for Kenwyn about the incident. The episode ends with a bet between Rex and Noah on who can reach civilization first.
Cast
Trivia
In parts of the episode, the song "Bark or Bite" by the Happy Campers can be heard playing in the background.
This episode can be referring to, or be a tribute to the episode "Basic Training " from Ben 10: Ultimate Alien

The Ben 10 series was also made by Man of Action studios, so this is likely an intentional nod.
References
Community content is available under
CC-BY-SA
unless otherwise noted.