For the article about the video game visit Generator Rex: Agent of Providence article
Agents of Providence is a promotional site of Generator REX created by Cartoon Network. It was set in 2009 and features several sections such as videos, games, character descriptions and more.
Videos
The site has several videos:
Sighting the E.V.O.s - section contains short videos in which normal people encounter E.V.O.s.
Prep-talks of Holiday and Six - short videos in which either Six or Holiday are encouraging people to join the Organization.
Rex captured - a video appearing after the final exam for a Providence agent. Video features Rex being bored of being held captive.
Train to be an Agent
A "training" led by Agent Six. It has four steps:
Orientation
Basic training
Contain or kill
The final exam - available only after finishing stages 1-3
Survival Guide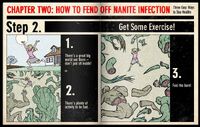 Also known as "The Nanite Survival Guide: How to Protect Yourself Against Mutating Nanites, EVOs and Everything Else" supposedly written by the "Living with Nanites" persona/team.
It is a small leaflet-like book containing three chapters:
How to Avoid an EVO Attack
How to Fend Off Nanite Infection
The Rules of Survival
Each chapter provides tips and pictures on how to preserve yourself from turning into an EVO and how to act when facing one.
Weaponry
Contains several guns with short descriptions of their power.
"The teenie meanie" (LIL6689)

Shrink target to 1/8 it's size
Requires AAAAAA batteries
for ages 10+
"The tazerator" (TAZ005)

can take down three ton rhino
manufactures in four different colours
stunning
"The atomic eraser" (BYE0521)

relatively painless to the EVO target
recharges in a matter of minutes
Warning: might rip a hole in the space/time continuum
"The inhaler" (SUX3000)

Bags sold separately
operates at 4.2 million BTU's
not for use around small pets
"The oozie" ('GOO11787)

comes with two additional globule cartridges
Kickback negligible
surprisingly easy to clean
"The catastrophizer" (EVO9000)

Laser blasts can be seen from space!
scope is accurate to 0.1 mm
slices through titanium like a knife through butter
Trivia
All characters (Dr. Holiday, Agent Six and Rex) are played by actors.
As the page was set at the beginning of the show, most of its content is outdated by now.
External Links
Community content is available under
CC-BY-SA
unless otherwise noted.